Client Corner: Prudential Life Insurance Company of America
JGRE recently completed multiple lease transactions in the Atlanta metro market for units of The Prudential Life Insurance Company of America (NYSE: PRU), bringing its total transaction volume in Atlanta to more than 52,000 square feet since the company's first lease transaction with Pru (2,000 square feet in North Fulton, Alpharetta) in 2010. Four separate business units of the organization completed three relocations and one lease renewal and expansion. The individual lease details include:
§ The Prudential Group Insurance division renewed and expanded in 5,742 SF in Two Ravinia in the Central Perimeter market.
§ The Prudential Mortgage Capital Company moved into brand new space at Two Alliance Center in Buckhead in an almost full floor deal at 15,000 SF.
§ Prudential Real Estate Investors recently completed a deal at Tower Place 200 in Buckhead for 17,000 SF bringing them closer to the financial district in Buckhead.
Prudential Financial made a similar move as PREI to Atlanta Financial Center for 15,000 SF and also bringing them into the heart of Buckhead.

CONTENTS
Client Corner: Atlanta Ad agency moves into downtown skyscraper.
Make that a 'former' skyscraper.

In a deal brokered by Dave Smith, breensmith advertising agency is moving into 140 Peachtree. While most advertising and digital agencies have left downtown for lofts and trendier midtown addresses, breensmith has made it a point to go the other direction.
| | |
| --- | --- |
| 1911 | today |
The 140 Peachtree building located on Margaret Mitchell Square was originally one of the tallest structures in Atlanta when it opened in 1911 with eight stories. It was the home of the Hillyer Trust Company, one of Atlanta's first banking institutions.
In 1977, well-known Atlanta architect Neel Reid's building received a prestigious landmark destination and the building was designated the narrowest high rise office building in the United States. The building was later reduced to three floors after structural analysis by Citizens and Southern bank.
About breensmith:
breensmith is a full-service, non-traditional advertising agency located in downtown Atlanta. The agency client roster includes CNN, Equifax, Fadó Irish Pub, The Weather Channel, SoloHealth, Arena Football League and Stevi B's Pizza. For more information, visit http://breensmith.com or contact Tim Smith at smith@breensmith.com.
Realtor of the Year:
Alan Joel
We are very pleased to congratulate one of our own, Alan Joel, on receiving the 2011 Realtor of the Year award from the Atlanta Commercial Board of Realtors. The award was presented during the board's holiday party in mid-December at the InterContinental Buckhead.
Factors taken into consideration include REALTOR® spirit, civic activity, and business accomplishments. The award is based on what the individual has done for the real estate community as a whole and the size and complexity of deals.
---
Atlanta Office
Market Overview
The Atlanta Office market ended the fourth quarter 2011 with a vacancy rate of 16.7%, according to CoStar Group. The vacancy rate was down over the previous quarter – primarily due to the removal of Ponce City Market (in Midtown) from the office inventory at the of the conversion of the property, with net absorption totaling positive 619,887 square feet in the fourth quarter.
Vacant sublease space decreased in the quarter, ending the quarter at 2,036,256 square feet. Rental rates ended the fourth quarter at $18.67, an increase over the previous quarter. A total of two buildings delivered to the market in the quarter totaling 22,793 square feet, with 1,828,130 square feet still under construction at the end of the quarter.
---
Getting the most from LinkedIn, with Dan Granot, SIOR and Cristy Hines
Dan Granot
Cristy Hines
At the Fall Technology Summit hosted by CORFAC International in Portland last year, JGRE Principal Dan Granot and Sales Associate Cristy Hines presented tactics to leverage LinkedIn, such as how to 'Get Recommended' by having recommenders touch on at least three different points about you.
They also showed how to use LinkedIn for Lead Generation, with useful tips to make connections including people and company searches, and making connections by invitation. On LinkedIn Groups, Granot and Hines recommend that you "join many, participate in a few and do your research." The Granot & Hines presentation was part of a Best Practices workshop and the conference drew more than 100 attendees.
Dan has really honed in on relationship development with potential and current JGRE clients. His hope is to bring more of the community to JGRE, and show clients the firm's excellence and experience. His focus will remain in tenant representation and growing the 'LinkedIn' dimension of JGRE.
Featured Property: The Candler Building
Rent this space for free (see below)
Joel and Granot Real Estate is proud to announce their leasing responsibilities of the Candler Building. Established in 1906 the Candler Building has been the standard for Class "A" downtown Atlanta office space. The Candler Building is 220,000 square feet, and stands 17 stories high, with an adjacent 3 story-parking garage. JGRE is very pleased with the relationship formed with the Candler Building owners.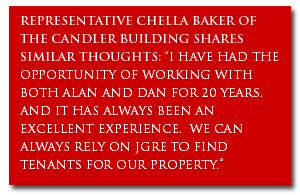 Located at 127 Peachtree Street, the Candler Building provides a unique opportunity for potential new tenants. Located in the heart of the new downtown Opportunity Tax Zone "DOTZ," the Candler Building can provide your company with a beneficial tax break. DOTZ, a state tax cut incentive, provides a $3,500 tax credit for new employees, per year, for up to five years. To qualify, a company must first, relocate into the downtown Opportunity Tax Zone, and hire a minimum of two new employees.
For leasing information or to learn how you can rent space in this building at a net cost of '0' please contact either Holley Mitchell (holley@joelandgranot.com/404-869-2637) or Cristy Hines (cristy@joelandgranot.com/404-869-2606)
For more details on the Opportunity Tax Zone go to:
http://www.atlantaemergingmarkets.com/IncentiveToolkit/OpportunityZone.html
http://www.dca.state.ga.us/economic/DevelopmentTools/programs/opportunityzones.asp
Tenant Tips
The Top Five reasons why your landlord doesn't take you seriously about moving:
1. They know on average that tenant's renew their office lease about 70% of the time.
2. Your lease is about to expire and you just now started discussing renewal.
3. They recognize the time, expense and effort involved with relocating
4. You are not in the market place conducting a credible market search
5. You have not hired a tenant representation professional to assist you in evaluating your options and represent your interests in lease negotiations.
Georgia is expected to add only 3,200 net new jobs in 2012 while Metro Atlanta should lose 2,300 net jobs during the year. Georgia is forecast to produce 46,500 jobs this year while Metro Atlanta is likely to product approximately 32,600 jobs in 2012 yet will have a net loss due to a greater number of job terminations.
Atlanta will see only modest net absorption gains in the coming quarters, most of which will still be concentrated in Class A buildings as the 'flight-to-quality' continues for tenants.
Construction levels will remain low, with no new speculative office buildings breaking ground in 2012. While heavy concessions are starting to burn off, asking rates will tread along the bottom and not see any significant improvements until occupancy levels rise considerably.