Transactions Highlights...continued
AFC Enterprises, Inc. is the franchisor and operator of Popeyes® restaurants, the world's second-largest quick-service chicken concept based on number of units. As of April 17, 2011, Popeyes had 1,997 operating restaurants in the United States, Puerto Rico, Guam, and the Cayman Islands and 25 foreign countries. AFC's primary objective is to deliver sales and profits by offering excellent investment opportunities in its Popeyes brand and providing exceptional franchisee support systems and services to its owners. AFC Enterprises can be found at www.afce.com.
Lucas Associates Inc. Extends its Lease in Houston, TX

Houston, TX – Joel & Granot Real Estate is proudly affiliated with Corporate Facilities Advisors, Inc. (CORFAC International), which has 80 offices in the Americas and through international associations provides corporate real estate services in 150 worldwide markets.
J&G Principal Dan Granot and Clay Peeples, SIOR and a Principal of Houston-based Boyd Commercial Real Estate Services/CORFAC International, recently completed a Houston, TX office lease transaction of 8,424 square feet on behalf of Lucas Associates Inc., an executive search firm based in Atlanta, GA.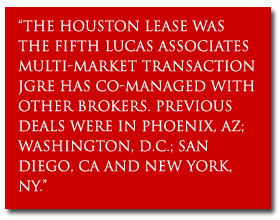 Lucas Associates renewed its lease at 5120 Woodway Drive in Houston. The Class A office building is in the Decorative Center of Houston and located near Sage Road and Woodway Drive. Terms of the lease were not disclosed, though Peeples said that comparable office space is leasing for approximately $22 per-square-foot on a gross, annual basis.
Founded in 1970 and headquartered in Atlanta, GA, Lucas Associates, Inc. operates an executive recruitment search company. It focuses on recruiting top executives in management, advertising/marketing/consumer products, sales, accounting, manufacturing, legal, military personnel transitioning, and technical positions, as well as capital markets, construction, human resources, insurance, engineering/supply chain and logistics/aerospace and defense, medical/biotech/pharmaceutical, energy and utilities, hospitality, professional services/consulting, real estate/REIT, restaurant/food service, and information technology/RFID industries.