Here, There, Nearly Everywhere: JGRE Transaction Highlights
AFC Enterprises to Relocate to New Corporate Headquarters
ATLANTA, GA -- AFC Enterprises, Inc. (NASDAQ: AFCE), the franchisor and operator of Popeyes® restaurants, announced in late July that it had entered into a lease for a new corporate headquarters in Dunwoody, Georgia when the lease on the company's current building expires in the latter part of the year.
The new headquarters will be located at The Terraces North at 400 Perimeter Center Terrace, where the company will occupy approximately 55,000 square feet of Class A office space.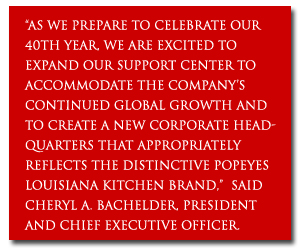 "It was important to us to select a location with a wealth of amenities for our team members, franchisees and our many visitors and business associates; and Dunwoody provided the perfect solution for our needs," Bachelder added.
Joel & Granot Real Estate, LLC Principals Alan Joel and Dan Granot represented the company in its office relocation and the new space is being designed by architectural design firm, KPS Group. Popeyes anticipates a move-in date in the fourth quarter of 2011.
CONTENTS
Featured Property: West Midtown Continues its Transformation
1071 Howell Mill Road NW, Atlanta, GA 30318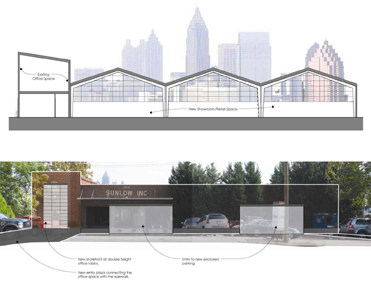 The ideal location for an office/showroom is available at 1071 Howell Mill Road NW in Atlanta. This freestanding building offers 35,655 square feet as is or 26,894 square feet with renovations. It's in the heart of West Midtown across the street from the White Provisions building - a top destination for shopping and dining.
The property, which is zoned I-2, has strong potential for re-development with 9,642 square feet of office, 17,342 square feet of showroom and 58 parking spots. It offers excellent exposure to more than 20,000 cars a day in a sought-after neighborhood with quick access to major interstates.
Once an industrial neighborhood, West Midtown is a thriving center for business, design, fashion and food. A mecca for the interior design business - from luxury furnishings to consignment boutiques - the neighborhood is perfect for a showroom.
For more information, contact listing associate Dave Smith at (404) 869-2605.
Atlanta Office
Market Overview
Atlanta's office owners, landlords and brokers have been waiting patiently for significant signs of a market recovery, and they'll have to wait a little longer.
CoStar Group's second quarter numbers are out, and Atlanta's aren't too encouraging. The overall office market vacancy rate inched up to 19.9 percent, up 0.1 percent from 19.8 percent in the first quarter. And average quoted rental rates decreased from $19.38 a square feet in the first quarter to$19.22 a foot in the second quarter, according to CoStar's report.
---
Meet the JGRE Team:
Cristy Nygaard Hines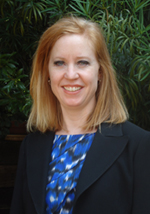 Cristy Nygaard Hines, vice president and associate broker, is the newest addition to JGRE.
Hines comes from Nygaard Properties, Inc., where she served as vice president and associate broker. During her tenure, she was instrumental in leasing and sales for the firm.
She began her commercial real estate career at Richard Bowers & Co., where she was a team with Dan Granot for several years. They were top producers every year, completing more than 75 deals in 1998 alone.
"We worked extremely well together," Hines said.
Having worked at a large firm, Hines said the environment of a smaller boutique firm is appealing. She is excited about her new role.
"I am extremely encouraged by the amount of activity going on in the firm," Hines said. "I feel confident that this new role will bring exciting opportunities for me."
When she's not brokering deals, you'll find her on the golf course or tennis court. Cristy is a member of the Atlanta Lawn Tennis Association and Chi Omega Society.
Client Corner: Sam Flax
Art Supply Retailer Moving to South Buckhead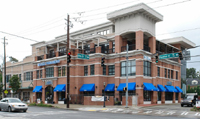 Sam Flax — a premier provider since 1986 of art and design supplies, fine stationery, boutique gifts and much more — is moving to South Buckhead.
The store, which is currently located at 1460 Northside Drive, will soon occupy the Kroger space in Brookwood Place at 1745 Peachtree Street.
"This takes us from an industrial area into a really a premier retail setting," said Lionel Flax, general manager and grandson of the founder, Sam Flax. "When that space became available, we saw an opportunity to elevate the image of our business and also enhance the experience for our customers."
Alan Joel, Dave Smith and Bill Ward of JGRE represented Sam Flax in the transaction.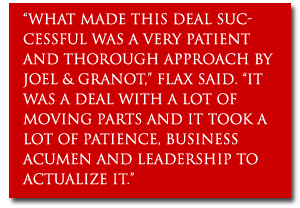 The complex transaction involved negotiating a sublease on the property, which Selig Enterprises had leased to The Kroger Co.
The 36,000-square-foot space will give Sam Flax plenty of room to expand. The store, which has 25,000-square feet on Northside Drive, will be able to offer additional classes and demonstrations and will become a much more interactive environment, Flax said.
The family-run business has been able to grow thanks to its knowledgeable and experienced team of employees who care deeply about the company and its reputation, said Flax.
You can check out the new store in September. For it's new location go to www.samflaxsouth.com
Largest Investment Sale: Parkway Properties, Inc. (NYSE: PKY) bought 3344 Peachtree's office and retail components for $167.3 million, setting a new record in Buckhead. At $346 a square foot, the price topped the sale of The Pinnacle, which Cousins Properties sold for a record $343 a square foot in 2004.
Most Significant Merger: Making headlines again, Jackson, Miss.-based Parkway Properties inked a deal to buy privately-held Eola Capital LLC for $462 million. Parkway Properties will acquire Eola's property management business and six office properties.
CMBS Default Rate: Despite predictions that the delinquency rate for loans held in commercial mortgage-backed securities (CMBS) would reach 10 percent, it was 8.74 percent at the end of March, according to Fitch Ratings.
Total Office Space Leased: Leasing in U.S. central business districts in the first quarter totaled 18.2 million square feet, up 31.9 percent from first quarter of 2010, according to a report from Cushman & Wakefield Inc. It marked a six-year high, said the report.
Net Absorption: First quarter of 2011 saw positive net absorption of 8.8 million square feet of office space nationwide, according to CoStar Group Inc. This marked the fourth consecutive quarter of positive net absorption, said CoStar.
Vacancy Rate: The overall vacancy rate in the U.S. office market was 12.6 percent and 20 percent in Atlanta, according to CoStar.