Client Corner: CHILDS Advisory Partners Opens Buckhead Office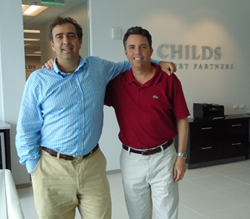 Dan Granot & Jim Childs
JGRE continues to execute strong Tenant Representation transactions on behalf of its clients. Dan Granot, as the lead broker, represented CHILDS Advisory Partners in their new Class A office space in Phipps Tower located at 3438 Peachtree Road, Atlanta, GA. The relationship between Dan Granot and Jim Childs, Managing Director of CHILDS Advisory Partners, goes back to 1975 in Atlanta, Georgia where they met on the tennis courts. Both outstanding tennis players, Dan and Jim are alumni of the University of Georgia's Men's Tennis Team under the legendary coach Dan McGill. The fun and competitive thirty-year friendship may have begun with tennis, however, their friendship did not stop there—it paved a smooth path for both parties to finalize this transaction as well as numerous others through the years.
CONTENTS
Client Corner: CHILDS Advisory Partners

Client Corner:
Georgia Commerce Bank

Featured Property:
Hot Spot, West Midtown Property for Sale
Client Corner: Georgia Commerce Bank Adds New Buckhead Location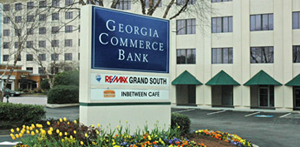 JGRE is pleased to announce its representation of Georgia Commerce Bank in locating its newest Branch Bank in in the heart of Buckhead at 2970 Peachtree Road. The 5,000 square foot branch is located just north of the "Peach Shopping Center." This will be the sixth location for Georgia Commerce Bank, with other locations in Acworth, Cumberland, Cumming, Marietta and Woodstock.

Atlanta Office Market Overview
©2012 COSTAR GROUP, INC. THE COSTAR OFFICE REPORT
Atlanta's Vacancy Decreases to 16.1%
Net Absorption Positive 1,137,788 SF in the Quarter
The Atlanta Office market ended the second quarter 2012 with a vacancy rate of 16.1%. The vacancy rate was down over the previous quarter, with net absorption totaling positive 1,137,788 square feet in the second quarter.
Vacant sublease space decreased in the quarter, ending the quarter at 1,778,434 square feet. Rental rates ended the second quarter at $18.47, an increase over the previous quarter. A total of five buildings delivered to the market in the quarter totaling 376,222 square feet, with 1,578,085 square feet still under construction at the end of the quarter.
---
What's New at JGRE?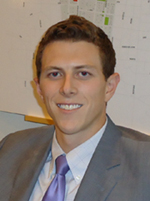 Nick Hollstegge
Joel and Granot Real Estate is excited to announce the expansion of their team further with the addition of Nick Hollstegge. As a new landlord and office tenant representative, Nick is focusing his attention on Northwest Atlanta. His areas of expertise will be the Galleria, Kennesaw and Marietta Submarkets. With a four year history as a Sales Specialist for the Atlanta Market at Cintas, Nick hopes to not only bring a lot of energy to the table, but to utilize his sales background to develop new business.
---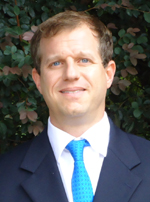 Michael Dinerman
JGRE is pleased to welcome Michael Dinerman as the newest member to their team of commercial brokers. Michael joined Joel & Granot in late May, and has quickly become an instrumental component in leasing and sales for the firm.
"I feel incredibly welcomed at JGRE— and enjoy the team atmosphere and the information sharing within the office. This assures that our clients are served properly with the most current market information," says Dinerman.
Featured Property: Hot Spot, West Midtown Property for Sale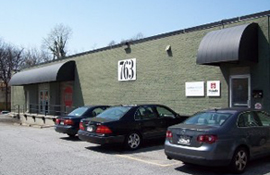 JGRE recently announced that the firm had been retained to exclusively market an office/loft/showroom property in the popular and growing Midtown West submarket. Located at 763 Trabert Avenue, the two-story, 40,000- square-foot building is for sale at $60 per square foot. The building is half office/loft and half showroom/warehouse space. This property was on the market a few years ago for four million dollars; however, JGRE now is marketing the property at an aggressive $2.4 million—promising strong investment potential for savvy real estate investors. This building is also a great owner/user opportunity with a potential 12,000 square feet of available space plus long term multi-tenant income already in place. Constructed of brick and block exterior, this location is well suited for young, creative office users. Additionally, this building has access to many walking paths and is adjacent to the future Atlanta Beltline path, which is a 22 mile pedestrian friendly, rail transit line and walking paths that is being built on an historic abandoned rail corridor. When complete, the Atlanta Beltline will connect 45 in-town neighborhoods. For more information go to www.beltline.org.
For more information on how you can buy or lease this space, click here or contact Dave Smith (dave@joelandgranot.com / 404-869-2605)
Tenant Tips
Here are a few specific points that JGRE recommends all tenants should look for in standard lease packages:
1) An accurate description of the commercial office space should be clearly listed in the lease.
2) How much is the rent and exactly when is it due? Are there any late charges if not paid on the correct date?
3) Is there a security deposit and how much is it? Under what conditions is this deposit repaid upon vacating the commercial office space and what conditions permit the landlord to refuse to return the security deposit?
4) What is the lease period and are there provisions to facilitate lease renewal if desired?
5) What are the terms in the lease regarding vacating the premises early? Do you have the right to move into another, larger office space owned by the landlord without penalty? Do you have any rights to rent additional space if your business grows more rapidly than anticipated?
A recent article in the Wall Street Journal identified the ten most expensive office markets in the US. Not surprisingly New York's Midtown Manhattan office space for lease led the way at $114 / sf / year. Here's how the rest of the U.S. stacks up with the Atlanta Class A office market:
- Top 10 Most Expensive Cities & Atlanta Top 10 Submarkets
Click here to view the source.
What is CORFAC International and how does it benefit our clients?
Like a finely tuned and competitive athlete intent on bringing his or her A game to their chosen sport each time they step onto the field, court, or swimming pool, etc., all of us at Joel & Granot Real Estate work incredibly hard to know our business in great detail, and bring our knowledge to the work we do with our clients every day.
Since 2003 when we joined Corporate Facility Advisors (CORFAC International) as the designated office market affiliate in Atlanta (our colleagues King Industrial Realty/CORFAC International take care of industrial business locally), our clients have benefitted immensely from our affiliation with CORFAC. Foremost, because CORFAC International gives us the ability to represent our clients in real estate transactions outside of Georgia by working with highly competent and trusted associates to lease or acquire commercial real estate.